This remarkably designed venue will ensure an exceptional event atmosphere which incorporates WA's unique cultural and Aboriginal heritage. Construction of the stadium is due to open on time for the beginning of the AFL 2018 season.  Perth Stadium is a multi – purpose venue which will host a variety of sporting events including rugby, football, cricket and entertainment with a seating capacity of 60,000. There will also be an integrated public transport approach that includes a pedestrian station, rail and bus. The new stadium will truly transform the City with site works well under way.
The venue is wholly focused on delivering a venue which puts fans first which will ensure an unrivalled spectator experience for many years to come. This development as well as other local major developments will boost Perth's status as a world class city.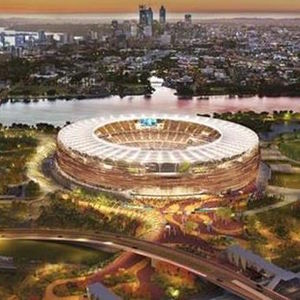 Current construction updates include the structure reaching its full height of 42 meters with the first of 50 roof trusses installed on the 5 tier stadium, with Year 1 of construction finished on time. The structure is now 33 percent complete based on the design and procurement status. The steel trusses will be delivered to the Burswood, with installation due in the next 12 months. The trusses will cover 85 per cent of the 60,000 seats.
The stadiums steel frame is using more than 14,000 tonnes of steel, and has subcontracts valued at almost $160million to local WA companies. This is a great opportunity for local Western Australian businesses.
2016 will be the busiest period of construction and the Burswood site and is set to become a prominent source of employment, with expected workforce numbers estimated to be around 1,000 workers by June 2016.
All Force Labour Solutions is WA's Number 1 Civil Construction and Construction recruitment specialists. Looking for workers? Looking for a job? Please head to our website at www.allforcelaboursolutions.com.au for further information.
Latest posts by MartinConroy
(see all)